ISO 9001:2015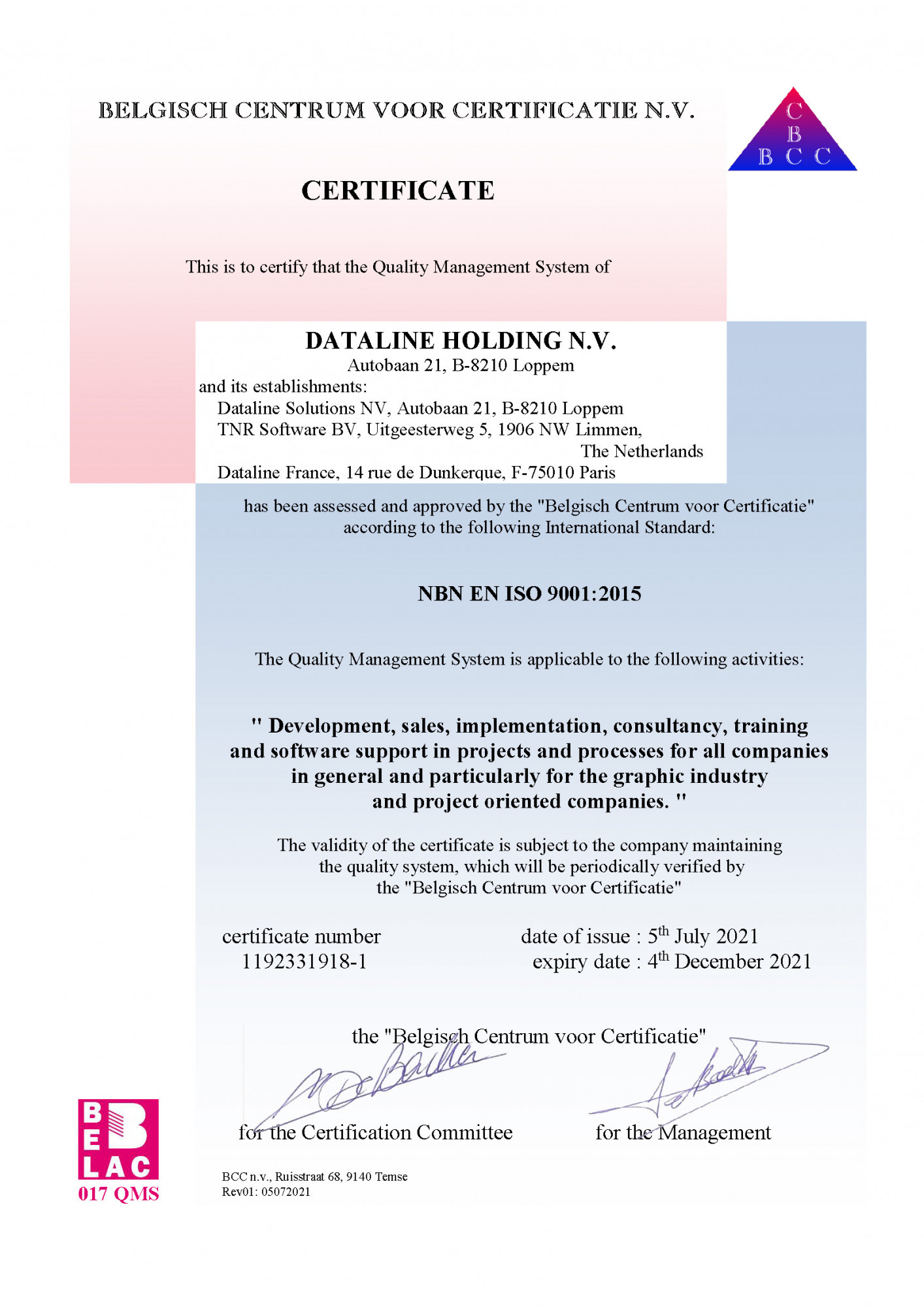 ISO stands for International Standardisation Organisation. An ISO 9001:2015 certificate is awarded to an organisation who can demonstrate that the quality of its products and services is guaranteed and is only received after a rigorous inspection. Our clients already benefit from our structured approach. This approach enables us to avoid errors and to continuously increase the quality of our services. Striving for maximum customer satisfaction is the eventual goal.
On 20 September 2006 Dataline Solutions received a favourable report for its implementation of the ISO 9001 standard from the head auditor of the Belgian Certification Centre. The report mentioned a "very sound implementation throughout the organisation". Dataline Solutions' quality system deals with the following topics:
• Consultancy on administrative, commercial and logistic processes
• Development of software for the graphic communications industry
• Implementation of ERP projects
• Training and supervision of ERP projects

Dataline Solutions excels in customer satisfaction!
As a service company we like to know what our clients think. This is why we organise surveys on a regular basis. The results show that customer satisfaction, both in the field of our service and in the field of our products, always scores very high. Dataline Solutions makes numerous efforts to maintain good and efficient customer contact, e.g. through the annual survey, a monthly support e-mail etc.  Our support service is available every workday by calling the direct telephone number +32 (0)50 83 20 02.
Our software has always been developed with high attention to user-friendliness and consistency. Surveys show that these characteristics score very well with our users. Almost 90% gives a positive evaluation.